• benefits of rudraksha • rudraksha • science behind rudraksha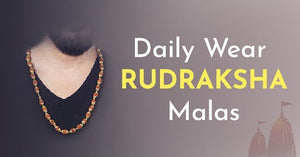 Rudraksha is a sacred and precious thing that is only for the welfare of mankind. Rudraksha has meditative benefits, spiritual benefits, physical benefits, mental benefits, and also helps in attaining salvation. So everyone, everyday and every time can wear Rudraksha.
---
• Lord shiva • Rudraksha • Rudraksha precautions
If someone wants transformation in their life and wants to eliminate those things that's difficult for them to try and do or if someone wants to live a lifetime of purity, these persons must choose Rudraksha. Rudraksha which came from the tears of lord Shiva, is one of the most powerful Healing woods amongst the all-healing objects. People who have motive of transforming their lives into good causes will definitely taste success after wearing the Rudraksha. Rudraksha is very powerful over any gems, yantra, tantra and mantra. In general, the one who wears and worships Rudraksha is blessed with plenty...
---
• Birth rudraksha • Lord shiva • Nepali rudraksha • Rudraksha
Nepali Rudraksha is the pure and oldest beads used by humankind to reach Spiritual and mental Enlightenment. It is an honest blessing to have the opportunity of wearing a holy Energized Rudraksha from the source of Nepal. Divine Therapy is one of the largest collectors and distributors of premium quality and Authentic Rudraksha for next generations from Nepal. We maintain the art of energizing the Rudraksha in accordance with Vedic methods based on your birth details. Premium quality and Vedic energization of rudraksha will definitely help you to find the way to experience a great and fruitful life. You can also find the rarest of the Rudraksha...
---
• astrology • rashi • rudraksha • zodiac signs
In astronomy, the zodiac is the band of sky along with the paths of the sun, the moon, and the planets appear to move. The zodiac has been divided into 12 parts, each is named after a constellation (called a zodiacal constellation). There are 12 zodiac signs, and each sign has its own strengths and weaknesses, its own specific traits, desires and attitude towards life and people. By analysing the projection of the position of planets, and the Sun and the Moon on the Ecliptic at the moment of birth. Astrology can give us a glimpse of a person's basic characteristics, preferences, flaws and fears. Each of the 12 horoscope signs belongs...